A Distant Bell and a Deserted Cottage

by Earl Ricker
Two enchanting musical "mysteries." Provides experience with simple changing meters and the sonorities of Phrygian mode.
Item 00372174
$1.95     $1.37—30% Discount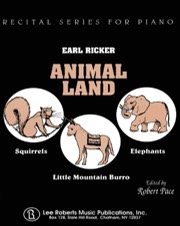 Animal Land
by Earl Ricker
Three entertaining musical portraits of scampering squirrels, a mountain burro, and ponderous elephants.
Item 00372171
$2.95      $2.07—30% Discount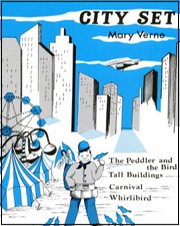 City Set
by Mary Verne (a.k.a. Marion Verhaalen)
Students love the four "city scapes" in City Set.
Teaching Ideas
Item 00372229…..Usually ships in 24 hours
$2.95      $2.07—30% Discount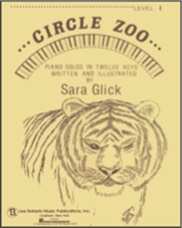 Circle Zoo
Written and Illustrated by Sara Glick
12 early level solos moving through all twelve major keys via the circle of fifths.  Solos: Tiger • Giraffe • Polar Bear • Rockin' Codfish • Elephant • Crazy Monkeys • Playful Seals • The Gentle Deer • Clearly The Hippo • Octopus • Penguin • Playful Otters
Item 00372354
$4.95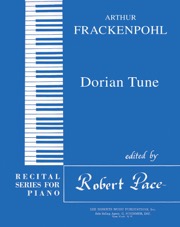 Dorian Tune
by Arthur Frackenpohl
Excellent "first solo" with appeal to young and older beginners, alike.
This simple, A-B-A melody uses all ten fingers in one position. Great introduction to Dorian Mode sonorities. Teaching Ideas 
Item 00372172
$1.95      $1.37—30% Discount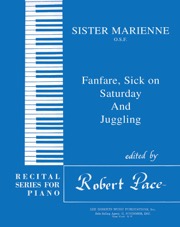 Fanfare, Sick on Saturday and Juggling
by Marienne Uszler 
Three descriptive pieces composed of simple patterns that make an engaging introduction to 12-tone writing. 
Item 00372209
$1.95    $1.37—30% Discount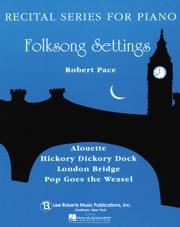 Folk Song Settings
Arranged by Robert Pace
Folk Song Settings (Alouette, Hickory Dickory Dock,
London Bridge, Pop Goes the Weasel. Unique settings of four well known folk songs to spark the interestof any Level 1 student.
Item 00372212
$2.95    $2.07—30% Discount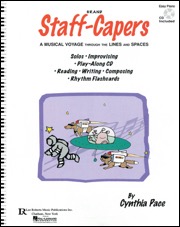 Grand Staff-Capers
by Cynthia Pace
Through "Chris the Rhinoceros," "My Dog," "Space Caper," and four other solos, students tour all the lines and spaces of the Staff (a few at a time), and explore the sound of seven different tonalities. Included rhythm flashcards, writing activities, and ear-training and improvisation CD-tracks offer many options for skill-building in a fun, musical way.
Item 00372425
$10.95     $7.67—30% Discount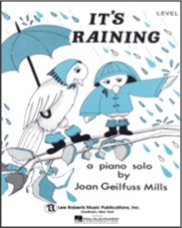 It's Raining
by Joan Geilfuss Mills
Combined staccato and legato touches tell of the pitter-patter of rain.
Item 00372155…..Usually ships in 24 hours
$1.95     $1.37—30% Discount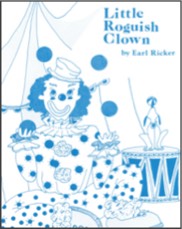 Little Roguish Clown
by Earl Ricker
This easy little piece lets beginning students "play with" quarter rests, strategically placed to give the teasing, fun quality of the little clown. Teaching Ideas
Item 00372162

$1.95      $1.37—30% Discount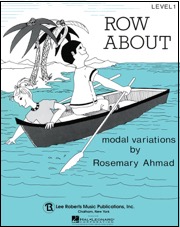 Row About

by Rosemary Barrett Byers
Fun with a favorite folk song, through 8 varied settings that include raga, pentatonic, bitonality, and 5 modes. 
Item 00372265
$1.95     $1.37—30% Discount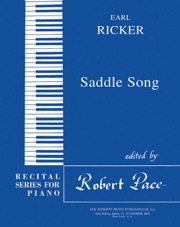 Saddle Song
by Earl Ricker
A simple melody over a traditional 4-note obstinate makes this an excellent selection for late first-year or for second year students.

Item 00372164
$1.95      $1.37—30% Discount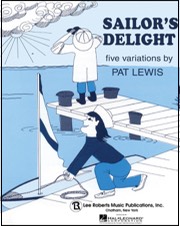 Sailor's Delight
by Pat Lewis
A basic melody enriched through 5 variations, using traditional 
chords, tone clusters, broken chords, 
Phrygian mode, and more. Teaching Ideas 


Item 00372252
$2.95     $2.07—30% Discount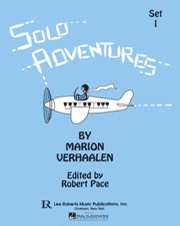 Solos Adventures - Set 1
by Marion Verhaalen
Nine short, easy solos to serve as important "companion pieces" for the basic series. The variety of styles, the shortness of the pieces and their musicality provide a breadth of material for musical growth i young students. See: Solo Adventures Sets 1-4

Titles: " Setting Up," "Glocken Yodler," "Dreaming of Scarborough," " Turkey in the Straw," "Winter Goodbye," "Quiet Time," "Chord Carousel,"   "Peasant Dance," "Catch Me!"
Item 00372376
$3.95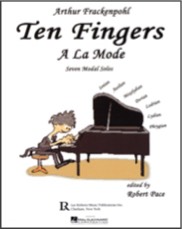 Ten Fingers a la Mode
by Arthur Frackenpohl

A unique set of solos that explore all 7 Modes in a variety of styles,
meters, and tempos. Good for any age group.
Item 00372309
$3.95     $2.77—30% Discount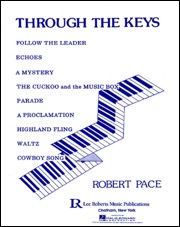 Through the Keys
by Robert Pace
Item 00372214
$3.95     $2.77—30% Discount