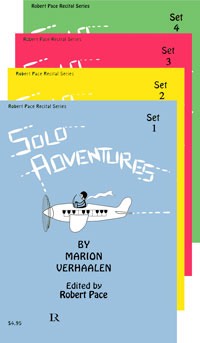 Save 20% on
Solo Adventures
Sets 1-4 Together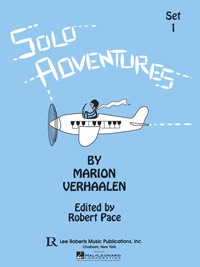 (Please Scroll Down)
SOLO ADVENTURES - SET 1
By Marion Verhaalen
Set 1: Nine engaging solos for beginners that illustrate basic principles of musical form, reading, and interpretation. The variety of styles, shortness of the pieces and their musicality provide a wealth of material for the beginning student.
Titles: Setting Up, Glocken Yodler, Dreaming of Scarborough, Turkey in the Straw, Winter Goodbye, Quite Time,  Chord Carousel, Peasant Dance, Catch Me. See Sample Pages
00372376
Set 1:  $3.95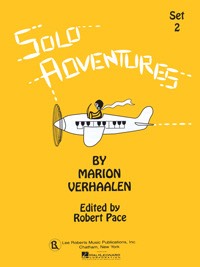 SOLO ADVENTURES - SET 2
By Marion Verhaalen
Set 2: Musical diversity engages students' interest throughout, as with the the other three Sets in this series. 
Titles:  Melody in A Minor, Joshua Fit the Battle, Dorian Dance, Caravan, Drunken Sailor, Theme from Beethoven's 7th Symphony, Gentle Breezes, Whirling, Adventures in Blue (Shuffle).
See Sample Pages
00372377
Set 2: 3.95

SOLO ADVENTURES - SET 3
By Marion Verhaalen
Set 3: Tailored especially to the needs of the intermediate student, the six solos of SOLO ADVENTURES 3 expand the scope of Solo Adventures 1 and 2. Plenty of room for creative games and improvisation. 
Includes: Simple Gifts, Old Joe Clark, Song of the Night, Minka, Chaconne, Renaissance Melody. See Sample Pages 
00372430
Set 3: $3.95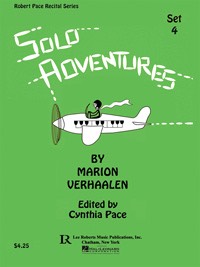 SOLO ADVENTURES - SET 4
By Marion Verhaalen
Set 3: Seven musically and technically engaging solos for intermediate-early advanced level students. 
Titles: Cool Blue Cat • In the Meadow Stood a Birch Tree • Black Is the Color of My True Love's Hair • He's Gone Away • Scarborough Fair • Remembrances • Cartwheel Capers
Offers students the challenge and satisfaction of using larger handspans, arpeggiated accompaniments, fuller, more sophisticated harmonies, and broader melodic lines.  
See Sample Pages
00372432
Set 4: $4.95