Für Elise Flash Mob   /  Lesson on Interpretation  /  9 Easy Set-up Tips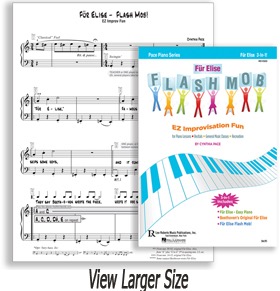 Für Elise Flash Mob
Lee Roberts Music Publications
24 pages…HL102510…$4.95
Für Elise Flash Mob
By Cynthia Pace
24 pages...HL102510…$4.95

Borrowing blues tones from Beethoven's Für Elise, Für Elise Flash Mob by Cynthia Pace provides step-by-step instruction for blues improvisation—flash mob style! 
This 3-in-1 sheet music book also features Beethoven's original Für Elise plus an easy adaptation of Beethoven's iconic piece. 

Well suited for piano lessons, recitals, general music classes, and just plain fun.

Includes: 
•Improv Activity  
•Beethoven's Original Für Elise 
•Easy adapted version, 
•Teaching Tips 
•Cue-card cut-outs.