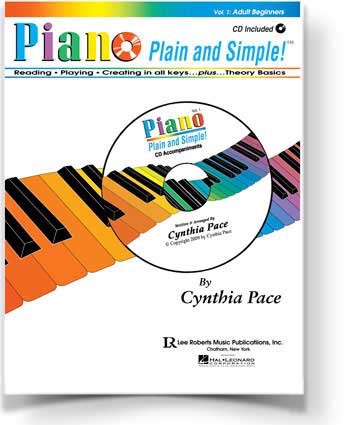 Level: Adult/Teen Beginners
By Cynthia Pace
For " true beginners" with little or no prior piano experience:
The

 

learning level advances steadily

but always within reach. 

Careful sequencing gives adult learners

plenty of time to build confidence

 

as they develop a feel for the keyboard.

Each piece introduces students to fundamentals and concepts that become

building blocks for further learning

and musical creativity.

Theory is built in 

with the music so students can better retain the skills and pieces they learn.

A

larger range of music is available

to students because they practice both black and white keys from the beginning and onward.

Step-by-step instructions for improvising and composing

 enable students to enjoy the rewards of creating their own music. 

The 

play-along CD

 gives students a clear idea of the timing, sound, and musical feel of each selection in this book. 
Pages: 144
CD Included
View: 
• Sample Pages • Table of Contents - Pg 1

25% Off

Hear: 
Play-Along CD —91 Audio Tracks and 
91 Midi Tracks (adjustable for tempo). 144 Pages.
Level 1…372364….144 pages